Resources for Starting a Business
Online resources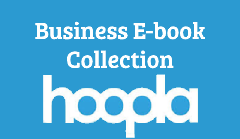 Where to look in the Library
Head for the nonfiction section, which is organized according to subject matter by the Dewey Decimal System – some Dewey numbers to look for:
158.1 for self-help and inspiration
330's for economics
340's for legal information
650's for practical business information, e.g. on marketing or accounting
Also note, there may be useful information in other areas depending on the nature of the business, e.g. crafts in 745.5 or lawn care in 635.9.
Business Center
Visiting the Business Center
The Business Center is located in the conference room adjacent to the adult public computers inside the library.
Technology available in the Business Center includes a wide-format printer, and a computer loaded with the full Microsoft Office Suite, Adobe Reader, Corel Photoshop Pro, and Aftershot Pro 3. To use the space and any of these items, a reservation is required.
Make a Reservation
In order to make a reservation, you must have a Simi Valley Public Library card. Reservations are currently limited to one half hour in length.
Click here to view space availability and make a reservation for the Business Center. 
When you arrive at the Library for your reservation, you will need to check in by showing your library card to a staff member at the Information Desk.
Printing
Color printing is available on 8½" x 11″ or 11″ x 17″ paper. Cost is $1.00 per side for 8½" x 11″ and $2.00 per side for 11″ x 17″, payment must be made by cash or check. No more than 50 sheets per business.
You might also want to visit
City of Simi Valley Economic Development/Business Assistance 
Simi Valley Chamber of Commerce
What We Have
| | | |
| --- | --- | --- |
| Materials | Online Resources | Services For |